Memories of Chocowinity,NC

---
" Some Memories of Chocowinity of Beaufort Counity, NC "
by EDM

In 1958 Beaufort County didn't have much to offer by way of extras. I recall a trip over the bridge to Chocowinity Tastee Freez was very special. I would not even remember Chocowinity in the 1950's if it were not for this Tastee Freez!! Soft walnuts with syrup on sundaes were delicious. I lived in California for many years, and no one there ever put soft walnuts on sundaes. All they used then were those dried hard chopped nuts used as a substitute. I couldn't wait to get back to NC for a real sundae !!

Nearby to the Tastee Freez was a gas station that kept what seemed to me like exotic animals. I remember Monkeys and peecocks. Can someone refresh my memory on what else was there? It was always a special treat to visit those special animals. Does anyone know the name of the gas station? I think it is an antique store today.

In the 60's I recall a visit one night, over to Chocowinity to visit the ghost on the abandoned Railroad tracks. The story was that a Railroad worker had been hit by a train and lost his head in the accident ( I do not know the dates) Anyway, it was said that if you went there at night and sat there on the tracks so that you could see both ways up and down the abandoned railroad track, you could see the railroad worker with his lantern walking up and down the track looking for his lost head. My brother-in-law and a bunch of us kids went down to the spot where it was said we could see the ghost. It was a warm summer night and we had all the window down feeling smug and confident in the 1960's that there where no real ghost to fear. We were sitting there for a while when sure enough there appeared the light. The suspense was building as it was nearing us, when it suddenly disappeared. We looked in both directions, expecting to see it disappear down the track on the other side of the car as the ghost went on with his search. At that moment, however, right next to the car was a horendously terrifying and bloodcurdling scream that reached right to the core of your soul. My brother-in-law, (an adult) frantically got the car started and drove off in a panic. Needless to say, we felt that the ghost had given us his death cry at the moment he had lost his head.

With the changes in Chocowinity, I have trouble locating this spot, but i think it is down the intersection off Hwy 17 where the old Cliff's Restaurants which burned was.

Now while I am at it let me mention that when we got our drivers license in those days, we had to go get tested at the DMV in Chocowinity. I believe the testing site was just beyond the Chocowinity High School on Hwy 17. There was a man there who did the testing that I understand still does the testing at the new DMV in Washington. I guess he has been responsible for giving the drivers license to 90 % of the then population.


---
---
Submitted by Herb McRoy:

I grew-up in an area about 2 miles east of Chocowinity which at that time was on route 264. I lived and worked on a tobacco farm, the railroad that you mentioned was still in use, my cousins and I would play chicken on the railroad tracks with the trains. We would also try to beat the train accross the trestles sometimes we would have to jump off the trestles into the water. Our greatest excitement was going to the country store run by Johnnie Boyd to get a Dr Pepper and a haircut on Saturday. My first year of school was at the school in Bear Creek, the next year was in Chocowinity, which I guess will be demolished afer this year. By the way, there was not a Tastee Freez in Chocowinity when I was growing up. There were three gas stations at the Chocowinity Crossroads and Lathams Garage. One of the gas stations had a small restaurant where we hung out at lunch time and at night after a date--if we had one.

Herb, some rememberances...
---
---
Submitted by Tim Baker:

Diane,
I was just on the website www.beaufort-county.com & I noticed on the Chocowinity NC memories page there was a picture of the old Tastee-Freez restaurant that was on Highway 17. Well many people here in Chocowinity knew my father Pete Baker because he at one time owned & operated that restaurant & then he later moved down Highway 17 to the location next to WITN-TV7 station is & there he opened up a Restaraunt named the Dairy Barn ( later called Cliff's Seafood) . That was the original building that was burned down. My Dad had quite a business there for many years & it was one of Beaufort County's most popular restaurants. Anyway I would like say that it was really nice to a picture of that Tastee-Freez Restaurant because truly & honestly I never thought that I would ever see one again. If you would like to add this information to the Chocowinity Memories section of www.beaufort-county.com it surely would be all right with me.

Take Care & God Bless You
Tim Baker
saxman@coastalnet.com


---
---

Submitted by: Billy W. Edwards
The picture of the Tastee Freeze is great! I remember it as a child when visiting my grandparents; Mr. & Mrs. Norman Slaughter who for years lived next to the Chocowinity Dry Cleaners. As kids my grandparents would give us 25 cents and we could go to the Tastee Freeze and get a treat. The country store someone mentioned was owned by Mr. Barney Hill. He had many exotic animals, and the greatest collection of guns hanging on his wall I had ever seen. I used to go there and get treats also. My favorite was "fireballs" 2 for 1 cent. I know a lot of other stories about my favorite town, and if anyone is interested let me know. My wife and I are both graduated from Chocowinity High School a few years back.
Thanks,Billy W. Edwards -New Bern, NC.


---
If anyone would like to add to this, just send email to me.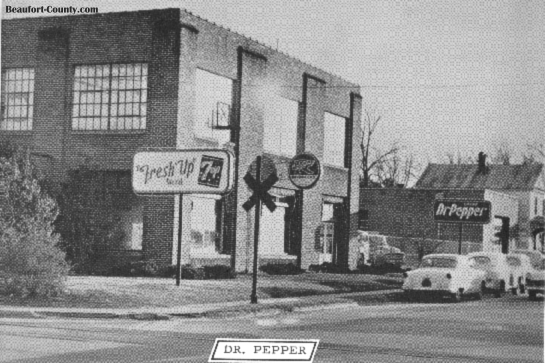 Bridge St. Washington,NC
This is just a little ditty I recall but I can't remember if it was about Pepsi Cola or Dr Pepper.

Pepsi Cola hits the spot,
the man who made it ought to be shot.

Looks like ink, taste like water,
Pepsi Cola is a rotten drink.

I don't know why we sang this song, because I liked both Pepsi and Dr Pepper. We moved to Florida in my youth and couldn't get Dr. Pepper or Bar B Que--much to my dismay. North Carolina Bar B Q is still a treat found only here in the old north state.


If you have any old pictures that you want to share, email me. We will scan your picture, put it on this site and return the original to you (negatives are acceptable). Thanks !
Beaufort County's Virtual Community
Memories of Another time by William Rhodes